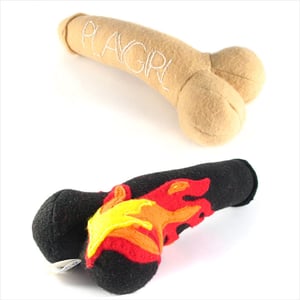 $

25.00
Your prick ought to be something special, right? Something designed just for you. You need a Custom Handjob!
Or if an effigy won't cut it, and you need to call that cock a name, a VooDoo Dick will do!
A prick with a hand embroided touch that personifies everything you love in a peen.
Much like The Prick Cushion, Custom Handjobs and VooDoo Dicks are the perfect gift for the scorned and smitten. Unlike the Prick Cushion, the Custom Made Cocks comes with that personal touch that makes vengeance so sweet.
If you're willing to suggest it, I am willing to applique or embroider it on a prick for you.
Choose your own ethnicity or extreme colour, if you so desire. Decide if a circumcision is right for you. Then decide if it's flames, frogs, or "FRANK!" that will make you phallis fabulous!
On purchasing, you will be sent a custom order form to help you with these choices!
In about a week, your ultimate penis will be custom made to your specifications with a hand embroidered name or appliqued design, and on its way to your humble abode for you to do with it whatever your heart desires.
Due to the nature of custom work, prices may vary. A simple job starts as low as $20. For text embroidery, up to 8 letters in length are at the set price of $22. Additional letters are 20c per letter. Feel free to contact me for an exact quote. If the standard cart fee is more than the custom work merits, a refund will be issued.
FACTS
brand. The Prick Cushion
size. large (approx 8.5")
colour. you choose!
cut/uncut. you choose!
details. hand embroidered name or appliqued design of your choice! with balls, pins not included
material. felt, polyester fibrefill
Although this penis is lifelike, it is not intended of peeing, making babies or any other lifelike uses. Novelty only.
Made for Fun, Not Fury!