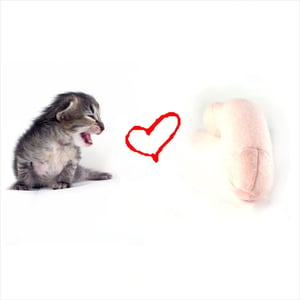 $

20.00
Pussies love prick.
And this appear like any other prick that a Pussy would love to play with. But then I added organic catnip.
The perfect toy for your puss to play all day long with.
This kitty toy has been sewn with love, by a cat lover. The shaft of the penis is stuffed with a fabric pouch of catnip. Every seam is double stitched for strength, so to allow for maximum pussy play. The head of the penis has no raw edges for kitty safety.
Humans like to watch - and that is a good thing, since the "Pussy Loves Prick" toy should not be played with without human supervision. Much care is taken in the making of this toy - but should your kitten, in the ravages of passion, tear into her plaything, please, no matter how cruel it seems, use the proper precauctions in caring for your pet, and discontinue use if it becomes a saftey hazard.
FACTS
brand. The Prick Cushion
size. large ( approx 8.5")
colour. you choose!
details: catnip stuffed prick cushion
material. felt, cotton, polyester fibrefill, organic catnip

Each Prick Cushion is handmade, and has it's own unique look and personality... just like the real mccoy!
Although this penis is lifelike, it is not intended for peeing, making babies or any other lifelike uses. Novelty only.
Made for fun not fury!