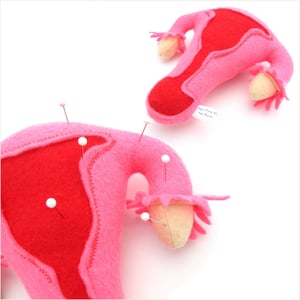 $

25.00
What woman hasn't once or twice in her life, wanted to rip out her uterus and throw it at the wall?! Or stab it full of a thousand pins and show it who really is boss?
Well the time for uterus revenge is nigh!
From the maker of The Prick Cushion, introducing That Time Of The Month. When your menses get you down, this pin cushion will be your BFF4eva!
Be it a rough time on the rag, or a menopausal mood swing, That Time Of The Month will be there for you in a way your mother never was.
Inspired by ovarian cysts, That Time Of The Month measures approx 6" in both height and width. Her lining is pink, her insides are red and the ovaries are a lovely shade of cream.
Each That Time of the Month is handmade, and has it's own unique look and personality... just like the real mccoy!
FACTS
brand. The Prick Cushion
size. average (6")
colour. pink, red and cream
details. uterus, with flared fallopian tubes
material. felt, polyester fibrefill
Although these girly bits are lifelike, it is not intended for ovulation, nourishing fetuses, giving birth or any other lifelike uses. Novelty only
Made for Fun, not Fury!