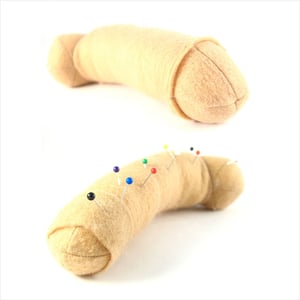 $

17.00
A felt penis pin cushion... or whatever you want it to be!
For scorned lovers, and women with penis envy, the perfect bachelorette gift for the crafty girl who has everything or the pin cushion you will never lose!
The Prick Cushion measures approx 8.5". Made in your choice of colour and variety with a giggle and a grin, this willy is the perfect place to poke your pins.
Each Prick Cushion is handmade, and has it's own unique look and personality... just like the real mccoy!
FACTS
brand. The Prick Cushion
size. large (8.5")
colour. you choose!
cut/uncut. you choose!
details: has balls, pins not included
material. felt, polyester fibrefill
Although this penis is lifelike, it is not intended for peeing, making babies or any other lifelike uses. Novelty only.
Made for fun not fury.